Where I began
As a student who just finished their second year at MRU in the Information Design program, it had come time to pursue an internship. The timing was not in my favour as it was right in the midst of a recession and made job searching much more difficult. However, I'd consider myself very lucky as I was connected to my internship at ELEVATE Design through my professor at university, Corey Brennan who is now also my boss.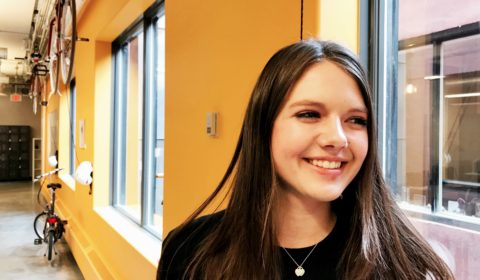 Since starting at ELEVATE, my experiences have been nothing but the best. I have learned more than I could imagine in two months of immersing myself into the industry. Working at Work Nicer Coworking has also been amazing as I have been given the opportunity to connect with many entrepreneurs in a range of industries.
The journey along the way
I've challenged myself to step outside of my comfort zone and take on tasks that I wouldn't have been comfortable with before. I never would have anticipated to be connected with as many people as I am now. The coworking aspect has made me feel very at home and at ease with networking, when I once saw it as an obstacle.
Interning for the first time can bring many fears to students, there are lots of things that we do not know what to make of and accept. Such as, what will the space look like that I'll be working in? Will I feel welcomed? etc.. I was fortunate to already have been familiar with ELEVATE and Work Nicer as I had conducted an information interview with Corey earlier in the year to discover a bit about the industry and his work.
How I've grown
Working for ELEVATE has been such a great and rewarding experience, I've been able to have a true look and gain insight into how business is conducted within the design industry. I've even discovered things about myself that I didn't know, and I now have a better direction for what work I may wish to pursue post graduation. The supervision and mentoring that I have received has been very inspiring and I feel stronger and more confident for the experience. I'm no longer afraid to try new things that I do not yet have the skills for. I would have to say that my greatest lesson so far has been to open myself up to new opportunities and meeting new people.