If you worked through the ELEVATE Branding Process, you probably have a good idea of the type of vehicle that embodies your business brand. While you might not always be able to drive or afford that Bugatti Veyron, you do have the opportunity to extend your brand identity by applying graphics to your existing vehicle. In some cases, such as a new leased vehicle, a full wrap can help to maintain the value of you car by protecting the paint.
Vehicle graphics are an excellent way to elevate your branding efforts and to get remembered. ELEVATE has created unique and eye catching vehicle wraps for companies such as Calgary Career Counselling, Crankbrothers and Melrose Bar & Cafe.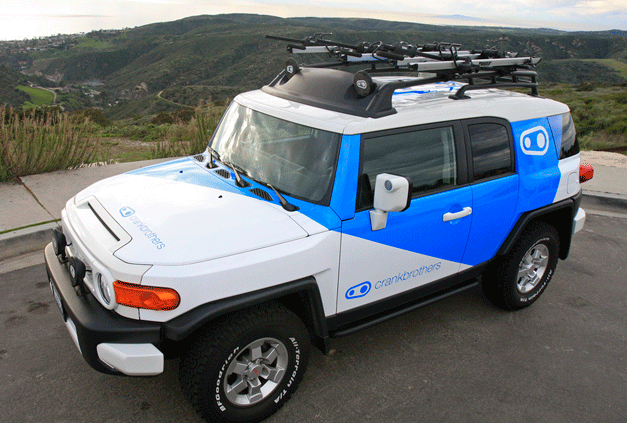 If you drive a company vehicle every day, an eye-catching design can be a great strategy for raising company awareness throughout your business region. On top of this, your company's vehicle can be a great way to offer customers a tangible image of your business and it's personality.
ELEVATE treats your brand as an investment in the future of your company. Once you have your new logo, colour palette and website, it is important to continue to extend that brand. As a result of our design process, you will have access to a variety of supporting images, textures and brand messages that are useful when designing your vehicle wrap. We combine these elements and present you with 2 or 3 graphic design directions. Once the design is finalized, we will work with a trusted printer to proof and install your vehicle wrap. After this, it is up to you to drive with pride and showcase your business passion.
After your wrap is installed, be sure to think about how your vehicle can be used to it's maximum potential. Do you drive to work and then park in an underground lot, hidden from potential clients? If so, it might be worth the cost to park on the street one or two days a week. If you are attending an event, such as a weekend bike race, be sure to part in a prominent position. You don't need to be a sponsor. Choose a high traffic area of the parking lot and increase you brand awareness. Some clients have also added business card holders to the outside of their car. These can be ordered online and make a unique addition to your wrap and get you remembered. Just don't forget to take the cards out before you drive away!
A vehicle wrap is a great way to increase your brand awareness and showcase your corporate personality. By pairing your vehicle image to your business image you will leave an impression wherever you drive.